Developing Others through Delegation
Learn and apply the skills necessary to build engagement, project ownership, and empowerment among your direct reports.
In today's fast-paced and competitive business landscape, the ability to effectively delegate is a vital skill that separates exceptional leaders from the rest. The reliance on individual leaders to manage multiple responsibilities and oversee diverse teams has never been greater. Delegation allows leaders to distribute workload, empower team members, and drive efficiency, ultimately leading to improved productivity and outcomes. Moreover, research consistently highlights that investing in employee development, a key aspect of delegation, boosts employee satisfaction and retention. In a world where organizations strive to attract and retain top talent, mastering the art of delegation is not just an option, but a necessity for long-term success.
But how can you as a leader know what critical items or projects you should delegate to direct reports and which ones you should not? How can you ensure that your reports will be accountable for their new responsibilities? And how can you help ensure that they are growing professionally along the way? In this three-hour workshop, you'll learn the answers to these questions and apply the skills necessary to effectively delegate, inspire your team, and achieve sustained success.
Performance Objectives
By the end of this digital workshop, participants will have the skills necessary to:
Explore the profound effects of delegation on both employees and managers. Gain insights into how delegation influences motivation, growth, and team dynamics. Learn the art of empowering others while maintaining accountability.
Assess your readiness to delegate and identify areas for improvement. Acquire valuable tools and techniques to evaluate task suitability, identify potential delegates, and overcome common delegation challenges. Build the confidence to delegate effectively.
Craft a comprehensive delegation plan tailored to your unique needs and objectives. Discover proven strategies for delegate conversations, setting expectations, and fostering open communication. Ensure a seamless and successful delegation process.
For more, check out our Applied Leadership Workshops page.
Applied Leadership Workshops Newsletter
Submit your name and email address and we'll keep you posted on current and upcoming workshops.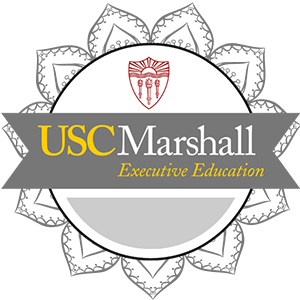 Digital Badge
Participants who successfully complete this workshop earn a USC Marshall digital credential recognizing their ability to apply the embedded skills in real world environments, and are able to showcase the credential in online resumes and LinkedIn profiles
TIME REQUIREMENTS
3 hours, self-paced.
COURSE DISCLAIMER
Every reasonable effort will be made to ensure this course runs as described on this webpage. Sales for on-demand programs are final once a course has been launched. Refunds can be obtained for 100% of the program fee prior to launching a course.

USC Marshall Executive Education Applied Leadership Workshops are designed to equip working professionals with the essential skills and abilities necessary to lead today's organizations.
Formatted as self-paced, performance-based modules, these workshops focus exclusively on one specific leadership skill and provide participants with the knowledge and tools necessary to apply that skill within their own organization.