Communicating Effectively in Online Environments
Learn and apply the skills necessary to transform your virtual approach and personal and virtual team maximize impact.
As organizations have adapted to remote work and hybrid environments, the reliance on online meetings and virtual teams has skyrocketed. Virtual communication has allowed organizations to seamlessly transcend geographical boundaries and enable collaboration across diverse teams. As individuals bring their unique communication styles to the virtual realm, leaders need to navigate a rich tapestry of personalities, preferences, and cultural nuances. So how do leaders bridge the gap between co-located and remote colleagues, foster meaningful connections, and drive impactful outcomes in an ever-evolving digital world?
This workshop has been designed to revolutionize the way you communicate in virtual settings. It draws on over 20 years of the most current and impactful research and training experiences. In only three hours, you'll learn and apply the skills necessary to harness the true potential of online communication, not just through technology, but by placing the spotlight on what truly matters: the people. Don't miss this opportunity to become a master of virtual communication. Elevate your leadership skills, amplify your impact, and navigate the evolving landscape of online communication with confidence.
Performance Objectives
By the end of this digital workshop, participants will have the skills necessary to:
Discover tools and techniques to lead engaging and productive online meetings. From mastering virtual facilitation to fostering collaboration and active participation, you'll gain the skills to transform your virtual meetings into dynamic and impactful experiences.
Unleash the power of virtual collaboration! Explore strategies and best practices for maximizing the potential of your virtual teams. From establishing clear communication channels to cultivating trust and synergy, you'll learn how to build high-performing teams that thrive in any digital environment.
Captivate your audience and deliver compelling online presentations that leave a lasting impact. Acquire strategic approaches to crafting and delivering engaging content virtually. From leveraging visual aids to honing your storytelling skills, you'll elevate your online presentations to new heights.
For more, check out our Applied Leadership Workshops page.
Applied Leadership Workshops Newsletter
Submit your name and email address and we'll keep you posted on current and upcoming workshops.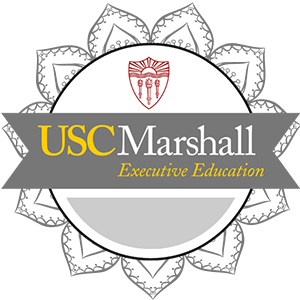 Digital Badge
Participants who successfully complete this workshop earn a USC Marshall digital credential recognizing their ability to apply the embedded skills in real world environments, and are able to showcase the credential in online resumes and LinkedIn profiles
TIME REQUIREMENTS
3 hours, self-paced.
COURSE DISCLAIMER
Every reasonable effort will be made to ensure this course runs as described on this webpage. Sales for on-demand programs are final once a course has been launched. Refunds can be obtained for 100% of the program fee prior to launching a course.

USC Marshall Executive Education Applied Leadership Workshops are designed to equip working professionals with the essential skills and abilities necessary to lead today's organizations.
Formatted as self-paced, performance-based modules, these workshops focus exclusively on one specific leadership skill and provide participants with the knowledge and tools necessary to apply that skill within their own organization.