Mastering Data Communication: Strategies that Drive Action
Learn the skills and strategies necessary to masterfully convert your hundreds of hours of work and expertise into clear takeaways that others can understand easily and be moved to action.
Business leaders are often presented with so much data it's hard to interpret, analyze, and use to make effective decisions. More often than not, raw data presented to decision-makers lacks appropriate context and comes across as overwhelming. Statistics and trends are too commonly interpreted as numbers rather than the deeper challenges or opportunities they represent. This inevitably leads to misinterpretation of critical information and misguided decision-making, not only hindering strategic planning, but also potentially causing financial losses and missed opportunities for the organization. Altogether, ineffective data communication undermines the trust decision-makers have in the presenter's data-driven insights. Undeniably, mastering data communication marks an important step in decision-making.
But how can business professionals and data-driven experts present data in a compelling and memorable manner? How do we bridge the gap between raw information and strategic decision-making? How do we transform our data into compelling narratives that drive action? Moreover, how do we ensure our data-driven presentations foster trust and confidence in our insights provided? In this three-hour, self-paced workshop, you'll learn the data communication skills and strategies necessary to masterfully convert your hundreds of hours of work and expertise into understandable and actionable takeaways.
Performance Objectives
By the end of this digital workshop, participants will have the skills necessary to:
Transform Raw Data into Compelling Narratives. Learn and apply the skills necessary to make sense of data trends within the context of your industry, align your data with decision-makers' needs, and craft compelling narratives to ensure your analyses resonate with your audience.
Humanize your Presentation of Data. Through real-life scenarios into statistical information, emphasis on the benefits to individuals and communities before delving into data-driven rationale, and effective strategies for handling questions raised by decision-makers, you'll bridge the gap between data analysis and human understanding, creating persuasive arguments that inspire action and change.
Craft Impactful and Memorable Visual Representations of Data. Master the art of creating visually compelling, action-oriented charts and graphs, by highlighting the important data points, reducing the cognitive load on your audience, and intuitively directing audience attention toward essential information.
Applied Leadership Workshops Newsletter
Submit your name and email address and we'll keep you posted on current and upcoming workshops.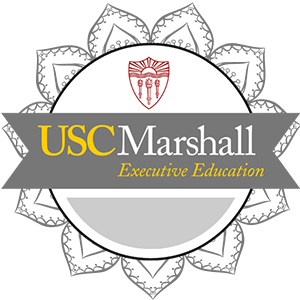 Digital Badge
Participants who successfully complete this workshop earn a USC Marshall digital credential recognizing their ability to apply the embedded skills in real world environments, and are able to showcase the credential in online resumes and LinkedIn profiles
TIME REQUIREMENTS
3 hours, self-paced.
COURSE DISCLAIMER
Every reasonable effort will be made to ensure this course runs as described on this webpage. Sales for on-demand programs are final once a course has been launched. Refunds can be obtained for 100% of the program fee prior to launching a course.

USC Marshall Executive Education Applied Leadership Workshops are designed to equip working professionals with the essential skills and abilities necessary to lead today's organizations.
Formatted as self-paced, performance-based modules, these workshops focus exclusively on one specific leadership skill and provide participants with the knowledge and tools necessary to apply that skill within their own organization.