Leading a Change Initiative
Learn and apply the essential skills and techniques necessary to become one of the successful 30% in leading change initiatives within your organization.
It is no secret that organizations that demonstrate flexibility and a willingness to embrace change can better sustain competitive advantage in both the short and long term. Today's leaders must demonstrate the requisite abilities necessary to identify and lead successful change initiatives. An adaptable leader will enable their organizations to not only survive but thrive.
In today's ever-changing business environment, the rationale for embracing change is obvious: Without doing things differently, companies will most likely fail. Many change efforts are driven by the need to survive as an organization, the desire to be better positioned in the eyes of stakeholders, or the opportunity to take advantage of new tools or processes. However, the brutal reality is about 70% of all change initiatives fail. So what are the factors that enable successful change initiatives versus unsuccessful ones? How can you, as a leader, drive lasting, successful change within your organization?
In this self-paced, 3-hour digital workshop you'll learn to apply the essential skills and techniques necessary to become one of the successful 30% in leading change initiatives within your organization.
Performance Objectives
By the end of this digital workshop, participants will have the skills necessary to:
Frame and outline change initiatives within their organizations for both survive-state problems and thrive-state opportunities.
Adjust their approach to leading change for stakeholders with different change adoption rates.
Identify and remove friction elements necessary to change adoption.
Implement choice architecture and nudges as drivers that foster positive change behaviors.
Applied Leadership Workshops Newsletter
Submit your name and email address and we'll keep you posted on current and upcoming workshops.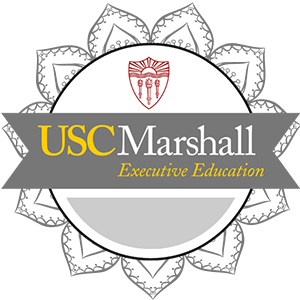 Digital Badge
Participants who successfully complete this workshop earn a USC Marshall digital credential recognizing their ability to apply the embedded skills in real world environments, and are able to showcase the credential in online resumes and LinkedIn profiles
TIME REQUIREMENTS
3 hours, self-paced.
COURSE DISCLAIMER
Every reasonable effort will be made to ensure this course runs as described on this webpage. Sales for on-demand programs are final once a course has been launched. Refunds can be obtained for 100% of the program fee prior to launching a course.

USC Marshall Executive Education Applied Leadership Workshops are designed to equip working professionals with the essential skills and abilities necessary to lead today's organizations.
Formatted as self-paced, performance-based modules, these workshops focus exclusively on one specific leadership skill and provide participants with the knowledge and tools necessary to apply that skill within their own organization.