Food Industry Executive Program
Elevate your potential with our program designed exclusively for preparing the food industry's future leaders, in partnership with the Western Association of Food Chains.
Transform into a resilient and agile leader
Become empowered to accelerate change with the Food Industry Executive Program (FIEP). Designed specifically for industry executives, this immersive program delivers innovative knowledge and critical skills essential to identifying your purpose, defining actionable leadership objectives, and learning the latest industry trends.
Learning Objectives:
This innovative four-day food Industry-focused program, in partnership with the Western Association of Food Chains (WAFC), will simultaneously help industry executives transform knowledge into impact, accelerate professional change, as well as network with peers. The curriculum is designed to cover these vital skills:
Strategic Mindset
Industry Evolution and Disruption
Strategic Marketing
The Science of Bias, Diversity, and Inclusion
Leadership, Power, and Influence
Executive Presence and Communication
For more, check out our Food Industry Management Programs.
Course Reminder Form
Submit your name and email address and we'll keep you posted on dates for this course as well as information on related courses.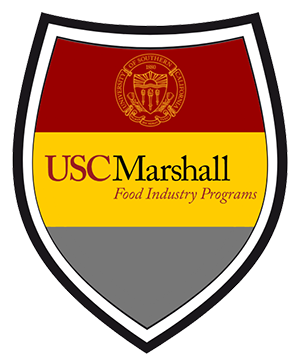 Digital Badge and Certificate
Upon completing Food Industry Executive Program, you will earn a digital badge recognizing your new proficiency. Share and showcase your achievements by posting your digital badge to online resumes and social networks such as LinkedIn.
TIME REQUIREMENTS
4 days, totaling 32 hours
COURSE DISCLAIMER
Every reasonable effort will be made to ensure this course runs as described on this webpage. Please note that course dates and professors can be subject to change. You will be notified by email in advance if there is a date change as we understand that you may require travel and hotel to attend.
The mission of the USC Marshall Food Industry Programs is to prepare high-potential food industry associates for leadership opportunities. Through exposure to rigorous and innovative educational programs, we help them stay ready for what's next!
In partnership with the Western Association of Food Chains (WAFC), USC Marshall Executive Education has helped develop Food Industry talent from an array of global food industry retailing, wholesaling, manufacturing, and supplier companies for over 65 years.