Storytelling to Increase your Influence as a Leader
Learn and apply the skills necessary to captivate your audience, inspire change, and establish a powerful professional brand through the art of storytelling.
In today's fast-paced world, the ability to tell compelling stories is what sets exceptional presentations apart from mediocre ones. Stories have a remarkable impact on listeners—they grab attention, enhance understanding, and drive behavioral shifts. When integrated into our work environments, storytelling becomes a powerful tool for influencing others effectively. Business professionals widely recognize the significance of storytelling in presentations, meetings, and everyday conversations. However, many leaders struggle to craft truly engaging stories.
Embedded within this self-paced, three-hour workshop, you'll learn the skills necessary to build a powerful collection of stories that you can leverage throughout your career, leaving a lasting impact on your audience and increasing your influence as a leader.
Performance Objectives
By the end of this digital workshop, participants will have the skills necessary to:
Dive into the fundamentals of effective storytelling in a business or workplace context. Explore the PREP approach, a proven model for structuring stories that will engage your audience and reinforce key messages. Discover how stories and examples bring your presentations and conversations to life, making them more memorable and persuasive.
Unleash the power of personal storytelling to shape your professional identity. Learn how to share stories about yourself as a leader, professional, and individual, and understand their profound impact on your audience. Craft authentic stories that establish credibility, build connections, and contribute to your personal brand.
Take your storytelling skills to the next level by crafting narratives that inspire change and drive action. Learn techniques to create stories that motivate others to embrace new ideas, adopt different behaviors, and make meaningful shifts. Develop the ability to influence and lead through the art of storytelling.
For more, check out our Applied Leadership Workshops page.
Applied Leadership Workshops Newsletter
Submit your name and email address and we'll keep you posted on current and upcoming workshops.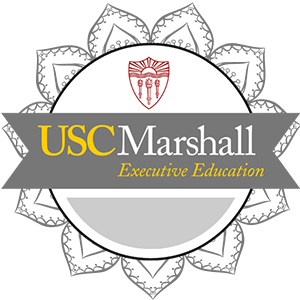 Digital Badge
Participants who successfully complete this workshop earn a USC Marshall digital credential recognizing their ability to apply the embedded skills in real world environments, and are able to showcase the credential in online resumes and LinkedIn profiles
TIME REQUIREMENTS
3 hours, self-paced.
COURSE DISCLAIMER
Every reasonable effort will be made to ensure this course runs as described on this webpage. Sales for on-demand programs are final once a course has been launched. Refunds can be obtained for 100% of the program fee prior to launching a course.

USC Marshall Executive Education Applied Leadership Workshops are designed to equip working professionals with the essential skills and abilities necessary to lead today's organizations.
Formatted as self-paced, performance-based modules, these workshops focus exclusively on one specific leadership skill and provide participants with the knowledge and tools necessary to apply that skill within their own organization.