Developing Brand You: Crafting Your Professional Identity
Learn to equip yourself with the insights, strategies, and tools essential for building a distinctive and influential personal brand.
In today's hyperconnected world, your personal and professional brand is your most valuable asset. In other words, it's essentially your reputation – it's what people say about you when you're not in the room. Good personal branding in a professional context includes your skills, your strengths, and your unique value proposition. A strong personal brand helps you stand out in a world inundated with information and choices. It conveys trust, credibility, and professionalism, making it easier for employers, clients, and colleagues to recognize your expertise. A well-crafted personal brand fosters confidence, both in yourself and in those around you. As a result, it enables you to pursue new opportunities, build meaningful relationships, and influence others positively.
Embedded within this self-paced, three-hour workshop, you'll learn the skills necessary to build and communicate your personal brand, create personal narratives that strengthen your professional presentations, and apply alternative approaches to presentations that focus on you and your message. Embark on this transformative journey and equip yourself with the insights, strategies, and tools essential for building a distinctive and influential personal brand.
Performance Objectives
By the end of this digital workshop, participants will have the skills necessary to:
Access and Strengthen Your Personal Brand. Through practical tools and activities, you'll evaluate your current brand status, gain insights into your strengths and development opportunities, and select focus areas for improvement, such as discovering your uniqueness, reflecting authenticity, committing to continuous learning, and building authentic relationships.
Apply Storytelling Best Practices to your Business Presentations. Through a step-by-step approach, you'll incorporate practical storytelling best practices into an upcoming presentation in your professional environment, enabling you to seamlessly integrate narratives tailored to specific audiences, fostering authenticity, engagement, and connection.
Craft and Apply Flexible, Adaptable Presentations. Learn and apply the skills necessary to create powerful and memorable presentations that go beyond PowerPoint, shifting the focus away from slides and dissemination of information, and placing it on you, the presenter, and your message.
For more, check out our Applied Leadership Workshops page.
Applied Leadership Workshops Newsletter
Submit your name and email address and we'll keep you posted on current and upcoming workshops.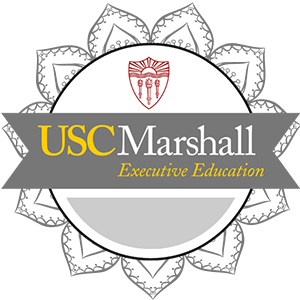 Digital Badge
Participants who successfully complete this workshop earn a USC Marshall digital credential recognizing their ability to apply the embedded skills in real world environments, and are able to showcase the credential in online resumes and LinkedIn profiles
TIME REQUIREMENTS
3 hours, self-paced.
COURSE DISCLAIMER
Every reasonable effort will be made to ensure this course runs as described on this webpage. Sales for on-demand programs are final once a course has been launched. Refunds can be obtained for 100% of the program fee prior to launching a course.

USC Marshall Executive Education Applied Leadership Workshops are designed to equip working professionals with the essential skills and abilities necessary to lead today's organizations.
Formatted as self-paced, performance-based modules, these workshops focus exclusively on one specific leadership skill and provide participants with the knowledge and tools necessary to apply that skill within their own organization.